Concrete Canoe Team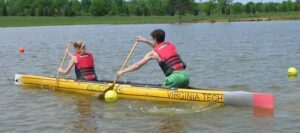 How can you build and race a concrete canoe? This is the question that is left to the Virginia Tech ASCE Concrete Canoe Team. This yearlong project involves the designing, construction, and paddling of the canoe. Upon completion the team enters their work into competition. At competition the team is judged on an oral presentation, a design paper, a display, and the appearance of the canoe.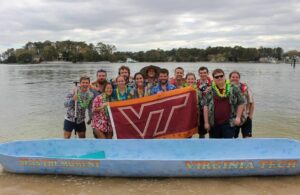 Only does the team get to present research and design information, but they also get to race their canoe. The races consist of a men's and women's sprint, endurance, and a coed sprint. Every year the team strives to win regional competition so that they may compete in nationals. The Virginia Tech Concrete Canoe Team has a position for you no matter what talents or skills you have. So if you are looking for a chance to visit other universities nationwide and build excellent professional and teamwork skills then come join our team.
Contact the concrete canoe captains for more information on how you can get involved.
---
Fall 2023 – Spring 2024 Captains
Maura Harbaugh and Mollie Dickler
Contact us with questions at virginiatechconcretecanoe@gmail.com!